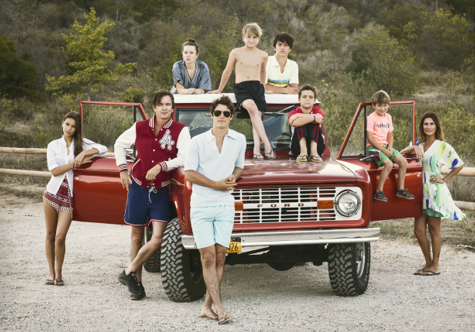 The Novogratz family
LOS ANGELES — Dorel Home, a segment of Dorel Inds., and interior design family The Novogratz are expanding their collaboration by more than 125 styles across the Dorel Home portfolio of brands, including Dorel Living, Ameriwood Home and DHP.
For the expanded collection, The Novogratz family has designed and curated product — in their signature style with nods to both modern and retro sensibilities — for the whole home with plans to add outdoor furniture and decor from Dorel Home's Cosco brand in 2019, according to a statement.
"The Novogratz have been working with Dorel for almost four years. It's our most successful collaboration as we both listen to each other and have the same goal of bringing great design at affordable prices," Robert Novogratz said in the statement.
Their music console for Ameriwood Home has been a consumer favorite, so a bedroom set based on the design is in the works, the company said. The bestselling DHP Brittany futon and Brittany sleeper sofa are being enhanced with new colors and sizes as well as the addition of a new Brittany bed.
The new offerings are slated to premiere at High Point Market in October and will include sectionals, accent tables, upholstered chairs, ottomans, accent pieces, dining room tables, a recliner reimagined and more.
Husband-and-wife design team Robert and Cortney Novogratz are known for their TV shows: Bravo's 9 by Design and HGTV's Home by Novogratz.
Dorel Home's showroom is located in the C&D Building, ninth floor.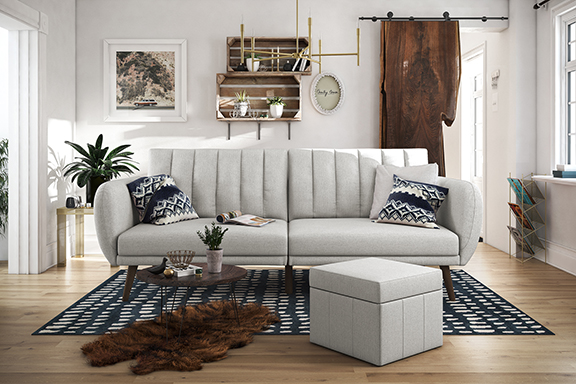 The Novogratz Brittany sofa