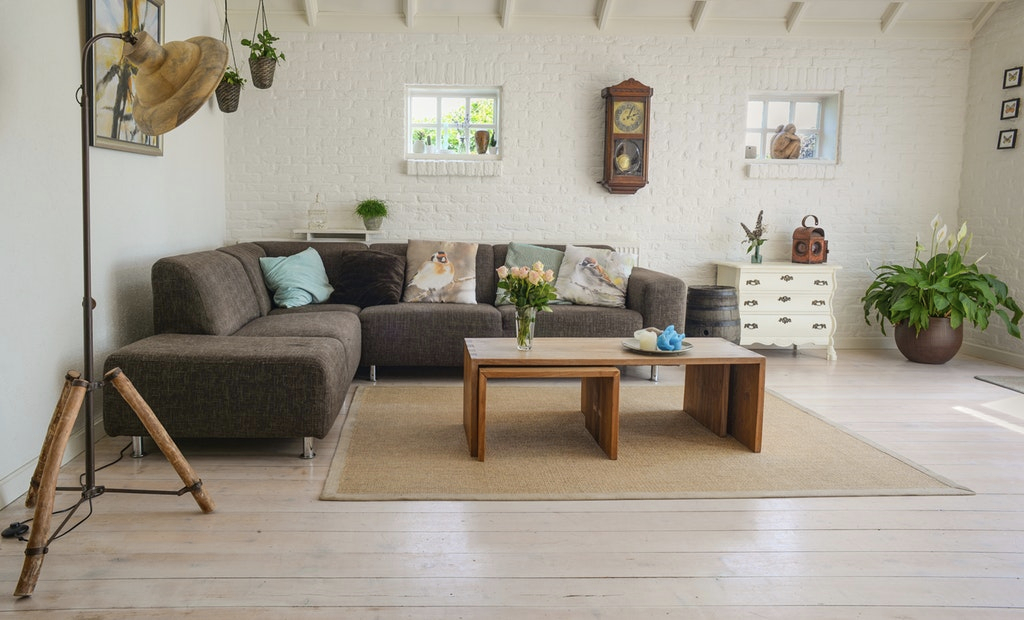 Top tips for decorating your living room on a budget
The living room, also known as the most used (and abused) room in the entire house. The living room is undoubtedly the room in which most households will spend the vast majority of their waking hours. It's the place you'd likely have company over in for a coffee, you'll have your down time on an evening, and if you don't use your dining room, chances are you'll probably eat your dinner in here too. Because of the amount of use it gets, it's inevitable that the living room is the room that is subject to the most wear and tear – and because of this, if it hasn't had some TLC in a while, chances are it could do with a little bit of attention. But what if you're wanting to keep it cheap? Well these top tips are all about how to decorate your living room well, on a budget.
Rearrange and declutter
One of the first things to consider doing in your living room, is changing the layout of it completely. If you were looking to sell your house fast, one of the first things you'd do would be to take a look at the room, and see if you could move things around in order to show off the available space better and optimise it, right? So why wouldn't you do the same thing when you're thinking about redecorating? Simply by moving the furniture that you already have around, you can make the room itself feel like a whole new space. Not only can it affect lighting and mood, but it can maximise or minimise the appearance of the size of a room. Sometimes, literally decorating isn't even necessary!
While you're doing this, why not have a clear-out and declutter at the same time? Decluttering can seem like a boring and long-winded task, but you can easily separate your "clutter" into three categories in order to make this easier and more time-efficient:
Clutter that isn't really clutter, that you just forgot you had and can put to use again.
Clutter that isn't any good to you, but isn't rubbish either – so you can pass it on to a friend or donate it to a local charity shop.
Clutter that is just that – clutter. Straight to the skip with this one! As Marie Kondo says, if it doesn't spark joy, don't keep it!
Decluttering doesn't have to be difficult and time-consuming – it just has to be done properly.
Paint the walls
Done all of that and still feel the room is looking a bit tired and lacking something? Well why not give your walls a lick of paint! Painting is one of the most cost-effective ways of utterly transforming the vibe and feel of a room – and it gives it that fresh, new paint feeling. When choosing your colours, look at what you already have there, think about your vibe, and pick something that matches. A lot of the time, going for a neutral colour on your walls is a great way forwards, because it doesn't limit you to what other colours you can use throughout the room. It also doesn't give the room a set feel – you can have it as cosy as you like in the winter, and as fresh and open as you like in the summer, simply by editing your accent colours. It's as easy as that!
Freshen up what you already have
Look at what you've already got, and think about how you can make it look brand new. For example, if you've had your sofa for a long time, it's still perfectly adequate and you can't afford a new one, jazz it up with some beautiful, new throws and pillows! It's a LOT cheaper than replacing the entire sofa, and works just as effectively to give the room something different.
Likewise, if your wood furniture has seen better days – don't replace it, stain or paint it! Upcycling is one of the biggest furniture trends right now, so there is an abundance of DIY inspiration available on the web. Why not let your creative side flow?
Accessorise
Last but not least, add the finishing touches with the right accessories. Things like house plants, you just can't go wrong with because the immediately freshen up a room and bring some life into it. Likewise, scented candles act as multi-functional, because they look beautiful and leave the space smelling great. Sometimes the little things really do have the most impact.
The editorial unit