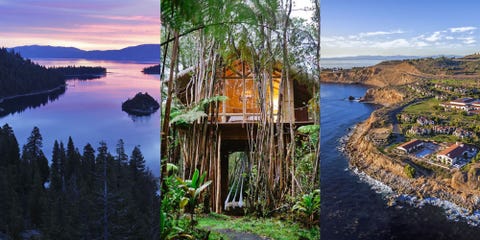 Getty Images/AirBnB/Terranea Resort
Winter is an excellent time to never leave your house. But you know what's also nice? Booking a vacation—or rather, a *staycation*—in your very own home state. Whether you prefer an upscale spa weekend or a posh camping experience, you can find a spot to relax that requires minimal effort and no plane ticket. Score! So without further ado, here's a comprehensive list of the best staycation destinations in all 50 states, selected with help from AirBnb reviews, local travel guides, and Glamping Hub (yup, that's a real thing). Pack your bags.
Advertisement – Continue Reading Below
Alabama
The scenic Gorham's Bluff is a popular wedding spot for couples who want quaint southern charm and amazing views. But if you're trying to plan a more intimate weekend away, you can book a room at the Gorham's Bluff lodge or rent out an entire cottage.
Pisgah, Alabama. Rates from $155 a night.
Alaska
Rated one of the top specialty lodging locations in Alaska, Alpenglow Luxury Camping has "airy yet cozy" glamping tents and "spectacular glacier views." Glacier! Views! Guys! Alpenglow's got it all: cedar hot tubs, fresh Alaskan coffee, and of course, spots where you can gaze upon glaciers. Pretty cool, tbh.
Glacier View, Alaska. Rates from $155 a night.
Arizona
So you wanna visit the Grand Canyon, but you don't exactly want to "rough" it, amirite? Under Canvas offers a variety of ~luxury~ tents, which feature indoor bathrooms, private decks, king size beds, and "luxurious linens." If you really want to ball out, check out the Stargazer tent, where you can cuddle under the constellations thanks to a built-in viewing window located above the bed.
Flagstaff, Arizona. Rates from $149 a night.
Arkansas
There are tons of glam accommodations tucked in Hot Springs National Park, but perhaps the biggest draw are the 19th century thermal bathhouses—the park's namesake. Visitors can choose to stay in a variety of locales on the park grounds, including houseboats and RVs. I myself would recommend booking a room at one of the quaint B&Bs, like the Prospect Place Bed & Breakfast.
Hot Springs, Arkansas. Rates from $100 a night.
California
California has loads of splurge-worthy getaways, but Terranea Resort, just south of LA, is definitely one of the coolest. Perfect for a weekend with your fave foodie, Terranea offers cooking classes and oceanfront dining, plus breathtaking views like the one pictured right there. When you're sufficiently stuffed with all the farm-to-table goodness you can handle, play a round of golf or hit the spa.
Rancho Palos Verdes, California. Rates from $535 a night.
Colorado
Queen of the wilderness Cheryl Strayed recently took a solo glamping trip to Dunton River Camp, a former cattle ranch located in the San Juan Mountains. Her conclusion? "I realized how much I ached to be left to my own thoughts and wanderings for a while…I would take a yoga class and get a massage. I would go hiking and fly-fishing. But most of all, I would do nothing at all. Which is something." Sign me the eff up.
Dolores, Colorado. Rates from $1,200 a night (includes food, beverages and activities.)
Connecticut
Start your self-care weekend at Winvian Farm by taking a snooze in one of the "whimsical cottages" situated on the 113-acre woodland property. There's also a luxury spa, yummy farm-to-table meals, and places where you can hike and horseback ride.
Litchfield Hills, Connecticut. Rates from $699 a night.
Delaware
The Towers Bed & Breakfast is kitschy, but in a perfect-for-your-Insta type of way. Each room at this adult-only B&B has a whimsical theme (I call the Rapunzel Suite!), plus there's a full gourmet breakfast and cool Gothic-style lounges.
Milford, Delaware. Rates from $175 a night.
Florida
Ever dreamed of buying your own island? Well, keep playing the lottery, my friend, and in the meantime, rent one! Plan a girls' trip to Melody Key, a private island in the Florida Keys, where you can chill off the grid in close proximity to a heated swimming pool, a Jacuzzi, and, oh, air conditioning.
Summerland Key, Florida. Rates from $1,375 a night.
Georgia
Situated on a 17-acre alpaca farm, the Glamping Geo Dome near Carters Lake offers a ton of outdoor activities (hiking, biking, paddling, and fishing, to name a few) perfect for couples who want some cozy time together. And yes, I said ALPACA FARM!!!
Ellijay, Georgia. Rates from $130 a night.
Hawaii
A trip to Hawaii is great, of course, but a trip to Hawaii during which you stay in a treehouse is even better. Check out AirBnB's top-ranked dreamy tropical treehouse, a secluded bamboo bungalow nestled among the trees.
Fern Forest, Hawaii. Rates from $300 a night.
Idaho
Whether you visit Sun Valley Lodge in the winter or the summer, you won't leave disappointed. If it's warm enough, hit the trails for a nature hike, or if the temps are low, grab your skis and find the slopes. Sun Valley also offers horseback riding, bowling, ice skating, and a spa, so, like, you're definitely not gonna get bored.
Sun Valley, Idaho. Rates from $219 a night.
Illinois
Camping? In the city? Yeah, it's a thing. Camp Northerly, on Chicago's Northerly Island, is an "adult urban camping experience" where you'll enjoy unlimited beverages courtesy of local brewery Goose Island, camp-themed dinners, and even sunrise yoga complete with "beermosas" and brunch. It's basically adult summer camp!
Chicago, Illinois. Rates from $250 for the weekend.
Indiana
Have you ever seen a 600-foot glass dome with your own eyeballs? Didn't think so. French Lick Resort is truly an architectural gem. The hotel has been around for more than a century, but don't worry, it was recently renovated. Now there are huge rooms, several spas, and even a casino if you're feeling lucky.
French Lick, Indiana. Rates from $249.
Iowa
Luna Valley is not your typical cornfields-and-cattle-ranch setting. Sure, it's rustic, but your tent includes a private patio "where you can listen to the birds sing and watch the sheep graze over your morning cup of locally roasted coffee or afternoon glass of locally brewed beer." How nice does that sound?
Decorah, Iowa. Rates from $125 a night.
Kansas
If you've ever wanted to stay in a doll house, then Google the Rosberg House in Lindsborg, Kansas ASAP. This real-life Barbie Dream House is actually a bed and breakfast, and let me tell you, the breakfast sounds ah-mazing. Fruit crepes and fluffy Belgian waffles, guys! After brunch, visit Lindsborg's historic downtown to browse the shops and restaurants.
Lindsborg, Kansas. Rates from $89 a night.
Kentucky
You're a queen, so why not live like one for a night? The Kentucky Castle looks like something straight out of The Crown, but, like, with way better food because pretty much all the grub you eat is sourced from the 55-acre property. Check out the calendar for movie nights and concerts on the scenic rooftop.
Versailles, Kentucky. Rates from $285 a night.
Louisiana
The Parks-Bowman Mansion Library Room, a gorgeous home with rooms for rent in New Orleans, is rumored to be haunted—which is a plus in my book. Sure, it may have been ranked one of the creepiest places to stay in the U.S., but you can't deny its charm, especially if you're a bookworm. Come on, ghosts, it's story time!
New Orleans, Louisiana. Rates from $120 a night.
Maine
Yep, you're looking at Jonathan Adler furnishings right there 😍. The Tide Beach Club has beautiful views of Goose Beach, a gourmet restaurant onsite, stargazing parties and beach soirées, plus paddle boards and kayaks for some good ol' fashioned fun in the sun.
Kennebunkport, Maine. Rates from $269 a night.
Maryland
Head to Frostburg, Maryland, for a yurt adventure at Savage River Lodge. But don't worry, you won't exactly be roughin' it—each yurt comes with a king size bed and a private bathroom with a huge shower. Plus, homemade muffins are hand-delivered to your tent each morning. Be right there!
Frostburg, Maryland. Rates from $260 a night.
Massachusetts
Nantucket is a teeny tiny island off the coast of Cape Cod, and it has not one, but *two* of the top-rated hotels in the country. The Nantucket Hotel & Resort and the Union Street Inn are definitely on the pricier end of the spectrum, but hey, you've earned those gorgeous views of the Atlantic! Just make sure to set your OOO.
Nantucket, Massachusetts. Rates from $265 a night.
Michigan
Come for the best fudge in America (seriously) but stay for the Grand Hotel Mackinac—a historical resort built in 1886 with major Wes Anderson vibes. Enjoy a five-course meal while overlooking the Straits of Mackinac before snuggling up in your ornate room.
Mackinac Island, Michigan. Rates from $849.
Minnesota
Bet you didn't know that "industrial chic" glamping was a thing. At True North Basecamp, the lakefront cabins—which were designed to honor Minnesota's mining heritage—are equipped with WiFi, electricity, USB charging ports, and heating and air conditioning so you can visit year round.
Crosby, Minnesota. Rates from $74 a night.
Mississippi
The Roost, a boutique hotel on the Mississippi Gulf Coast, features tons of artwork by local naturalist artists. Rent a bike and coast along the beach or charter a boat for a guided tour. Also, check out that room!
Ocean Springs, Mississippi. Rates from $260 a night.
Missouri
Big Cedar in the Ozarks is an excellent option for both a romantic weekend or a girls' getaway. There are cozy private log cabins, an onsite spa and salon, plus plenty of outdoor activities and countless hiking trails.
Ridgedale, Missouri. Rates from $169.
Montana
The Missoula-based Resort at Paws Up has six campgrounds spread across 37,000 acres of wilderness. The newest campsite, North Bank Camp, includes three-bedroom tents, a dining center and lounge, and—get this—personal chefs and "camping butlers." Camping butlers! Also important: the resort has on-site "s'moreologists," I kid you not.
Greenough, Montana. Rates from $1,300 a night.
Nebraska
Pair glamping with wine tasting and you get Slattery Vintage Estates. Slattery has a bevy of romantic bungalows and once you unpack your suitcase, head over the tasting room to sip vino and sample local meats and cheeses.
Nehawka, Nebraska. Rates from $90 a night.
Nevada
You've probably heard of Lake Tahoe, but have you ever heard of Edgewood Tahoe? Located on the southeast part of the lake, Edgewood has a full golf course, fine dining, and a spa to boot. In the winter, there's skiing, too.
Lake Tahoe, Nevada. Rates from $270 a night.
New Hampshire
You don't have to travel overseas to get a taste of France. Just book a night at Huttopia, a French-inspired campground in the White Mountains. Stuff your face with cheese, top-notch wine and espresso while in a cozy chateau. If that doesn't sound like heaven to you, please escort yourself out.
Albany, New Hampshire. Rates from $140.
New Jersey
Forget what you've heard about the Jersey Shore. The Starlux Boutique hotel has a glam vintage vibe and absolutely zero hair gel. There are even adorable airstream trailers available for rent with plenty of retro decor.
Wildwood, New Jersey. Rates from $59.
New Mexico
Located in the heart of Santa Fe, the earthy Inn of Five Graces is extremely serene. You can chill out in one of the many gorgeous courtyards, get a massage at the onsite spa, and then poke around the shops in the historic downtown.
Santa Fe, New Mexico. Rates from $395.
New York
Visiting New York City doesn't have to be all crowded sidewalks and overpriced cocktails. Just a quick trip on the ferry will get you to the Collective Retreats on Governors Island, a world away from the bustling city streets. There are a bunch of glam tents available—rustic! eclectic!—and visitors have access to electricity, private bathrooms, complimentary daily breakfasts and, of course, a s'mores kit. And yes, you can see the Manhattan skyline from your tent.
New York, New York. Rates from $700 a night.
North Carolina
The Duke Mansion is pretty much the epitome of southern charm. The gorgeous estate was first built in 1915 and was later *tripled* in size; it currently sits on four acres of perfectly manicured gardens and lawns. Pro tip: Browse the guest library and book collection with your morning coffee.
Charlotte, North Carolina. Rates from $259 a night.
North Dakota
Boutique hotel + brewery = heaven. But wait, there's more. The hotel also includes access to the Williston Recreation Center, which features a water park, a pool, and a full gym! If you decide to actually venture into the outside world, stroll down the road and check out Lewis and Clark State Park.
Williston, North Dakota. Rates from $77 a night.
Ohio
In Hocking Hills, Ohio, services like Among the Trees Lodging are committed to helping you relive your childhood. They'll find you a luxury treehouse—sans the rickety old ladder. You can also explore the beautiful Ash Cave and Cedar Falls along Buckeye Trail, before waterskiing on Rose Lake.
Logan, Ohio. Rates from $375 a night.
Oklahoma
Hidden Hills has a ton of luxury cabin options situated near Beavers Bend Park, Broken Bow Lake, and Mountain Fork River. It's called nature and I promise you'll like it! There are breweries and distilleries in the nearby towns, and if you're feeling super adventurous, you can rent an ATV to go deep in the countryside.
Broken Bow, Oklahoma. Rates from $250 a night.
Oregon
Grab your boo and get thee to the Cannery Pier Hotel & Spa. Located on the Columbia River, this resort has gorgeous views, super lux accommodations, and a full-service day spa. You're also just a few minutes away from a slew of Astoria cultural spots, like the Museum Walk.
Astoria, Oregon. Rates from $309 a night.
Pennsylvania
The Lodge at Woodloch Resort was designed to give you "an opportunity to shift from your everyday routine and re-focus on yourself." IDK about you, but that sounds pretty good to me! Choose from a variety of activities to help alleviate stress, such as spa services, cooking demonstrations, and wine tastings. Not too shabby.
Hawley, Pennsylvania. Rates from $279.
Rhode Island
Point Pleasant Inn is only open from March through October, so plan accordingly. The colonial-style mansion is right next to Narragansett Bay, which means you can have your breakfast on the waterfront terrace—just think of all the 'gram potential! Then take a bike ride around town and soak in the hot tub for the rest of the afternoon.
Bristol, Rhode Island. Rates from $420 a night.
South Carolina
Charleston's got southern charm in spades. Just look at the Restoration, a luxurious boutique hotel that pays homage to South Carolina's history in everything from the toiletries in each room to the menu for your afternoon tipple.
Charleston, South Carolina. Rates from $269.
South Dakota
You can check "visit Mount Rushmore" off your bucket list thanks to Under Canvas, which offers private luxury tents atop the gold mining settlement. Enjoy stargazing, Jeep tours, horseback riding, and the granite faces of George Washington, Thomas Jefferson, Theodore Roosevelt, and Abraham Lincoln, of course.
Keystone, South Dakota. Rates from $199.
Tennessee
Lord of the Rings fans (anyone?), you can live out your Shire fantasies when you stay at one of the chic underground bungalows at Forest Gully Farms. You can even go on a "forage tour" to learn about farming, gathering eggs and picking fruit from the orchard with owners Jon and Mandy.
Santa Fe, Tennessee. Rates from $295.
Texas
Spend a weekend at the whimsical Austin Motel, located on one of the city's hippest and most happening streets. Take a dip in the kidney-bean shaped pool or stop by the famous Jo's Coffee, where you can grab breakfast tacos and snap a photo in front of the famous "I Love You So Much" sign.
Austin, Texas. Rates from $200 a night.
Utah
Fans of the Oregon Trail game, this one's for you. At Capitol Reef, you can camp in a covered Conestoga wagon—minus the dysentery. The wagons sleep up to six, so it's ideal for a getaway with friends who are game to sleep under the stars surrounded by the Red Cliff Mountains. The best part? You can explore the countryside with the help of a LLAMA. Yup, pack llamas can accompany you on hikes, helping to carry food and water and delivering cuteness along the way.
Torrey, Utah. Rates from $270.
Vermont
The Topnotch Resort has got it all—mountainside views, skiing, golfing, horseback riding, and even sleigh rides in the winter. The nearby town is as cute as can be, or there's a spa on location if you're in need of some R&R.
Stowe, Vermont. Rates from $269 a night.
Virginia
If you want to fully escape into nature, look no further than Primland's Tree Houses, which are cabins literally built on top of trees. Can your Insta followers even handle it?!
Meadows of Dan, Virginia. Rates from $630 a night.
Washington
The luxury tents at Pampered Wilderness campground are apparently "reminiscent of deluxe safari suites," which is highly intriguing to me. Relax with a glass of wine and light a bunch of candles. Does it get more romantic than that?
Olympia, Washington. Rates from $240 a night.
West Virginia
The sprawling Greenbrier resort has been a luxury destination since the 18th century! It has hosted 27 of America's 45 presidents, which—for all you math majors out there—is more than half. At Greenbrier, you can golf or hit the full-service mineral spa; plus, there are tons of designer boutiques within walking distance.
White Sulphur Springs, West Virginia. Rates from $208.
Wisconsin
Wisconsin has plenty of lakeside getaways, by the Osthoff Resort is among the best. The pics are so pretty! There's a spa, a cooking school, a ton of water sports and lakefront activities, and it becomes a veritable snow globe in the winter.
Elkhart Lake, Wisconsin. Rates from $139 a night.
Wyoming
At the historic Wort Hotel (inside Yellowstone National Park), you can have the luxury experience—complete with personalized concierge services and upscale dining—but with the backdrop of the Grand Teton Mountain Range. A win-win.
Jackson, Wyoming. Rates from $189 a night.
Advertisement – Continue Reading Below